Do you ever wish you could live in the pages of a Jane Austen novel?
On October 19, 2019, come join with other Jane Austen devotees in the beautiful Rocky Mountains and spend a day celebrating the romance of the Regency Era. Held in the beautiful castle, vineyards, and gardens of Wadley Farms in Lindon, Utah, and hosted by bestselling author Julianne Donaldson, Regency Retreat will allow you to immerse yourself in a bygone era. Learn Regency era dances, practice your etiquette at an afternoon tea, and take classes taught by renowned Regency authors. You may participate in a promenade and costume contest (historical dress strongly encouraged), take a turn in a horse-drawn carriage, play croquet, dress a bonnet, learn to embroider, play whist, write elegant letters, and much more.
Then, if you are inclined to further divert yourself, we invite you to join us that evening in the castle for dining and dancing.

Aside from the gorgeous grounds, orchard, and castle, Wadley Farms boasts a legacy that stretches back nearly to the Regency Era, making it the perfect choice to hold the Retreat here in Utah. Established by Joseph Wadley, who was born in England just eight years after the Regency Era ended, the farm is now owned by the fifth and sixth generations of the Wadley family.
Learn to dance, enjoy afternoon tea, and take classes taught by renowned Regency authors.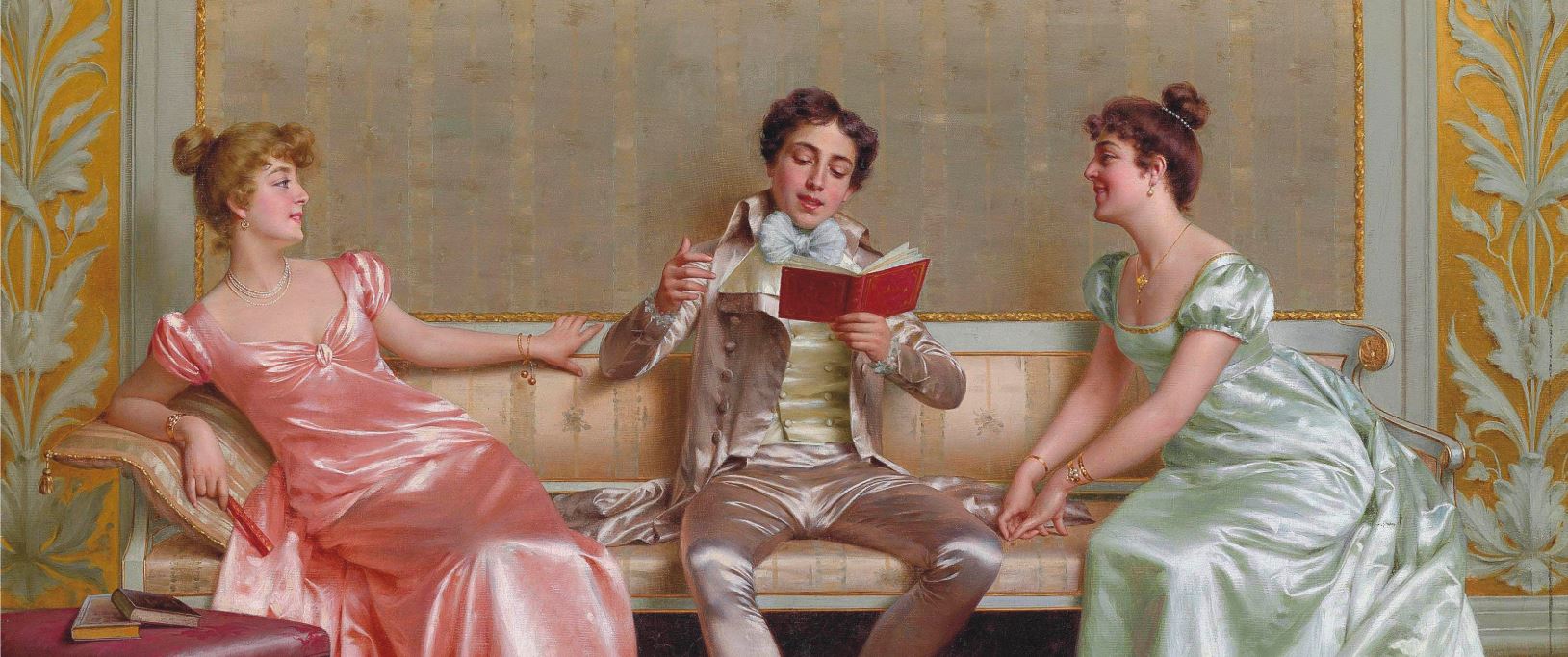 What to Expect
Upon entering the event, you will be provided with a schedule, which you may adhere to as much or as little as you like, feeling free to experience any or all of the diversions we will provide. Stroll in the beautiful gardens, take a ride in a horse-drawn carriage, try your hand at embroidery, or take a turn at the whist tables. On your schedule will be your very own appointed time for afternoon tea where you will learn the history and etiquette of the ceremony whilst enjoying a lovely spread of savouries, scones, and sweets. Once you've had your fill of pastries, you may find you would like to take some healthful refreshment by a game of croquet in the garden.
At some point, you may wish to trim a bonnet, which in our opinion, could never be overly trimmed. Or perhaps you'll wish to shop amongst the merchants who will be invited to sell their goods and wares in our marketplace. There will then be classes on the art of letter writing, a promenade where you can display your most elegant Regency attire, and opportunities to learn from accomplished ladies who live by their pens.
Then, that evening (your constitution permitting), come in your Regency era or formal dress for an elegant dinner and ball held inside the castle.
It is sure to be a day you will always remember.
Tickets
You may choose from the following experiences (Please note, in order to accommodate the various circumstances of our guests, the All-Day Pass and Dinner and Ball tickets are sold separately) :
All-day Pass, $186
Your all-day pass will allow you entrance into the event, starting at 10:30 a.m. and ending at 5 p.m., and will include dance and etiquette classes, author discussions and book signings, afternoon tea, bonnet dressing, games of whist and croquet, embroidery and silhouette-making classes, a promenade and costume contest, a carriage ride, and access to all vendors.*
*Vendors may include hairdressers, booksellers, photographers, and other merchants.
Dinner and Ball, $125
Come to the castle at 5:45 pm for an exclusive and elegant evening sure to be remembered for years to come. Dine on a delicious three-course dinner, then enjoy an evening of music and dance, led by the Old Glory Vintage Dancers. Regency era or formal dress required. The ball will end at 10 pm.
Combined Ticket, $311
Everything included in both the All-day Pass and the Dinner and Ball pass

Reception and mingling from 5:00 pm-6:00 pm on the green and at the Railroad House

VIP: $449
To truly treat yourself to the immersive experience of the Regency Retreat, splurge on this VIP pass. This will give you everything included in the Combined Ticket, plus one voucher for a professional hair up-do (provided on-site) and one voucher for a dress rental (measurements must be provided in advance to assure a dress that will fit you).
Your Hostesses
Julianne Donaldson is the creator of Regency Retreat and your illustrious hostess. She is an award-winning and internationally bestselling author of Regency romances, including Edenbrooke and Blackmoore. Her love of the Regency era began when she was sick with pneumonia as a teenager and spent a month reading every Georgette Heyer novel in print. Her interest continued through college, where she majored in English with an emphasis in British Literature. When she is not dreaming of living in a time long past, she stays busy raising her five children in Utah.
Your co-host, Jaime M. Kirby, formerly known as Jaime Richardson, or even Sophistimom, is the author of Celebrate Every Day: Recipes to Make the Most of Special Moments with Your Family (skirt! 2013). She became obsessed with romantic notions of England as a teenager when her mom's friend gave her an issue of Victoria magazine, which she would stare at endlessly. She has since become passionate about afternoon tea in the English style, and visits the United Kingdom as often as she can.
Are you ready to be transported?